Toddlers and Infants have hours of fun with soft play! Ball pools, soft play shapes, soft matting, rockers – we think our soft play products are incredible!
Soft Play Packages – We have three different packages that we feel can suit any needs if just for a play dater a days home entertainment to providing for a big birthday party.
Contact us today to discuss your requirements, upon doing so we will be happy to answer any of your queries and check our availability for our soft play hire.
We deliver our soft play hire to areas throughout Cornwall
Create a child friendly relaxed environment at your event, where children can retreat and engage in fun activities.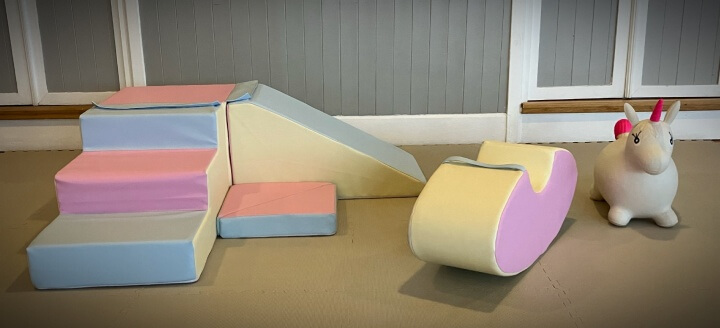 3 Step & Slide Set + Single Rocker + Unicorn Hopper.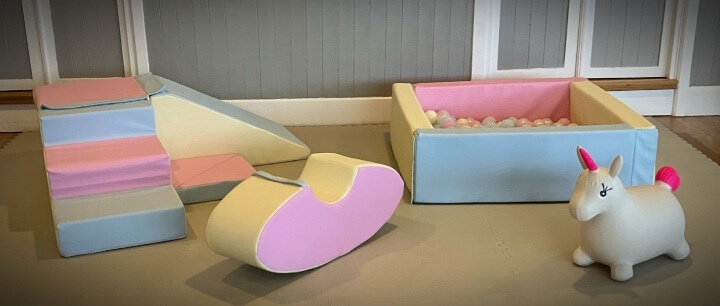 3 Step & Slide Set + Ball Pit & Balls + Single Rocker + Unicorn Hopper.

3 Step & Slide Set + Ball Pit & Balls + Double Rocker + 3 Step & Slide + 2 Step & Slide + Single Rocker
Adult centred events such as weddings can be long and tiring for children. The children's play space is a safe child friendly zone, it also provides learning and growth with an inviting environment at your event. This is a unique opportunity for children to retreat to where there is a stimulating space for them to engage in doing fun activities. This will then keep a nice relaxed atmosphere for everyone involved.
Our play spaces are great to have at events such as weddings and so on but we can also provide play spaces for you to use in your own homes. Lets say you might be organising a play date between friends but the weather isn't looking good we can come and set up so the children can be kept amused, if the sunshine is out we can create an area in the garden. You could be organising a birthday party either at your own home or at a local village hall, our items are versatile to work indoors and out to fit with your requirements.